Some Good News & Some Bad
2018-10-04, 2018-10-11, update to table of election results
My assessment of the good and bad results of the recent Quebec election, on October 1st.
Sommaire en français Mon appréciation des bons et mauvais résultats des élections au Québec du 1er octobre.
In the October 1st 2018 elections in the Canadian province of Quebec, a major upset occurred. The Quebec Liberal Party (QLP), which has held power for most of last 15 years, was swept from power and a new party, the Coalition avenir Québec (CAQ), won a solid majority in the legislature. Its leader François Legault thus becomes premier of Quebec. In addition, the Parti Québécois (PQ) lost many seats and was reduced to a shadow of its former importance, while the ostensibly far-left but communitarian Quebec Solidaire (QS) went from marginal status to being about equal to the PQ. There are 125 seats in the Quebec National Assembly. Thus, 63 are required to form a majority government. The following table sums up the situation before and after the election.
Political Party
Seats before election
Seats after election
Seats after recounts
2018-10-11
Quebec Liberal Party
66
32
31
Parti Québécois
28
9
10
Coalition avenir Québec
21
74
74
Quebec Solidaire
3
10
10
Independents
6
0
0
First, the bad news: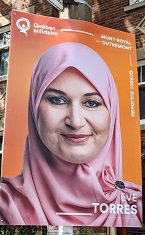 Click to enlarge
Ève Torres, a QS candidate.
Fortunately she did not win.
Unfortunately she came second.
The very weak vote for the centre-left PQ, the only social-democratic party of the four major ones, and the party which in 2013-2014 proposed a very good Charter of Secularism. Unfortunately the PQ's position on secularism has been erratic since then.
The election of the centre-right CAQ as the new government. However, the CAQ is probably no further to the right than the former PLQ government which imposed a lot of economic austerity. Also, the CAQ is nowhere nearly as far right as Doug Ford in Ontario or Donald Trump in the USA. For example, all four parties including the CAQ recognize that global warming is a major problem to be faced. As this is the first time the CAQ has held power, we will have to see just how they position themselves in practice.
The new premier François Legault plans to keep the crucifix in the legislative chamber (salon bleu) of the National Assembly. This old symbol of Catholicism must be removed, perhaps installed in a museum in the National Assembly, but Legault will evidently not do that. Its continued presence in the legislature is an unacceptable violation of secularism.
The worst news of all: the gains made by Quebec Solidaire, a group of sectarian regressive leftist anti-secularists, objective allies of political Islam, whose politics are seriously corrupted by identity politics, the conflation of race with religion and related errors. The gains by QS are a major cause of the losses by the PQ.
Now, the good news:
Legault plans to ban face-coverings in the public service, thus replacing the PLQ's bill 62 whose article 10 (which banned face-coverings) was suspended by two court decisions.
Legault plans to ban religious symbols worn by public servants in positions of authority, i.e. police, judges, prison guards and teachers.
Legault has indicated that he is prepared to use the so-called "Notwithstanding" clause if necessary (for example, if the courts attempt to suspend a ban on face-coverings or religious symbols). This pro-secular decisiveness is admirable, especially considering the waffling and hostility of most other politicians when dealing with secular issues. Also, this is very different from the situation in Ontario where premier Doug Ford's use of that clause was for rather frivolous reasons based at least partly on a personal settling of accounts with Toronto City Council.
The best news of all: the decisive defeat of the Quebec Liberal Party, a party which is anything but "liberal" despite its name, a corrupt gang of anti-secular multiculturalists who regularly denigrated the Quebec population which they were supposed to represent. Good riddance. Note that the QLP remained in power largely thanks to overwhelming, unwavering and obsessive support from Quebec's anglophone regions (which, by all appearances, would continue to support the QLP even if that party chose a stone statue of Queen Victoria as its leader). Despite continued support from them in the recent election, the QLP lost much support outside anglophone regions. Thus Quebec's francophone majority, which is very pro-secular, has finally regained some control of its government. The tail no longer wags the dog.
A final reminder:
As the anti-secular forces have no rational arguments to justify granting privileges to religion, they will do what they regularly do: resort to slander and defamation.
We can expect the fanatical multiculturalists who currently control most political parties, especially the federal ones, to go ballistic in reaction to Legault's secular initiatives. As the anti-secular forces have no rational arguments to justify granting privileges to religion, they will do what they regularly do: resort to slander and defamation. They will accuse Legault and his supporters of "racism" or any number of similar sins. In fact, they have already begun. Their slander must be resisted resolutely. Remember, anyone who conflates race and religion is incompetent to deal with either. Such accusations simply underline the intellectual sloth and vacuity of those who oppose secularism.
---
Some Relevant Links:
---
Next blog: The Moral and Intellectual Bankruptcy of Antisecularists